Janes Village History
This Historic Neighborhood, built in the middle of the 1920s is an early example of residential development in the LA Basin.
On the right is an actual Ad placed in the Pasadena Evening Post on the 24th of July, 1925
The following article, written by Tim Gregory, tells almost all of the known history of this area.
E. P. JANES
Altadena Builder
Elisha P. Janes (E. P. Janes as he was known professionally) built many small tracts of English and Spanish style "homes of distinction in scenic Altadena" between 1924 and 1926. Born in New York on July 26, 1877, Janes moved to Altadena in 1924, boasting that he would build 1,000 houses in the community. Although he fell far short of that mark, over 160 Altadena houses have been documented by Altadena Heritage as the work of Janes. In addition, there are probably several hundred more that have not been identified due to lack of building permits and other historical information. Altadena Heritage has verified Janes' involvement in the construction of at least 160 houses.

Janes' building program called for one-story stucco-finished, six-room houses in four different floor-plans. His properties were fully landscaped before being sold at prices ranging from $8,000 to $11,000. F. H. Lansdale, a representative of the Asbestic Stucco Company of Los Angeles, was put in charge of the building project. The designer is unknown.
In October 1925, Janes and several local businessmen hosted an "American Homes Beautiful Exposition" to show off over 300 Janes-built "small model homes" in Altedena. According to newspaper accounts of the day, at least 25,000 people were expected to attend its opening week; photographs published in the Los Angeles Examiner (click here to see article) show a street of English-style cottages clogged with Model T's and curious visitors. The home show, which featured 72 open homes, 8 of which were fully furnished, was billed as the "most elaborate" ever staged. It was advertised that these homes could be purchased, with furniture and landscaping, for $500 down and payments of $100 per month. Mr. Janes was quoted as saying that "economy features will be displayed in an effort to convince even those of moderate means that a home of their own is within their reach."

Janes lived with his wife Edith P. Janes at 1898 (later 1864) North Lake Avenue. Directories show that Carl J. Swenson, a painter, and his wife Elizabeth C. Swenson lived at the same address. Janes evidently set up two offices of E. P. Janes Real Estate, one at 2688 North Lake Avenue and another at 269 West Foothill Blvd. (now Altadena Drive), on the north side of the street somewhere between Glen and Olive. By 1927, directories reveal that Mr. and Mrs. Janes had left the area. Some controversy had developed over the fact that Janes had told his buyers that the County had money in hand to make improvements on streets, curbs, and gutters within his tracts, but the County contended it did not. It is unknown if ill feeling resulting from this disagreement speeded Janes' departure from Altadena.
The California Death Index indicates Mr. Janes died on August 30, 1940 in San Diego County at the age of 63. No further information about him was available in local libraries or the Los Angeles Public Library nor during a brief Internet search.

Janes advertised himself as a "builder of fine homes" and, indeed, many of his structures still survive and continue to be popular with newcomers to the community.
Sources :
Los Angeles Examiner: October 25, 1925
Pasadena Evening Post: October 21 and November 18, 1924; July 24, 1925; July 16, 1926
Tim Gregory
The Building Biographer
400 East California Blvd., #3
Pasadena, CA 91106-3763
Phone/Fax: 626-792-7465
e-mail: timothygregory@earthlink.net
Click here to download this information as a text file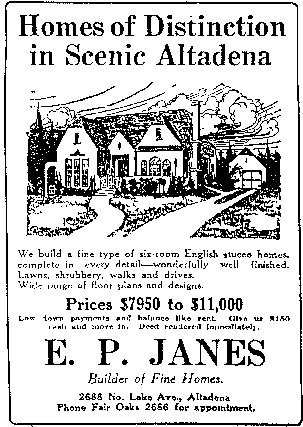 Click picture for large printable version
Some good examples of documented Janes-built neighborhoods in Altadena include:

3028-3070 La Corona Avenue
3151-3242 Grandeur Avenue
3024-3146 Marengo Avenue-east side only
185-321 Terrace Street
186-326 West Altadena Drive-south side only
135-319 West Mariposa Street-north side only
2877-3262 Olive Avenue
277-456 West Poppyfields
369-457 West Marigold St
253-457 West Palm Street
2871-2941 Glenrose Ave.
Was my home built by E.P. Janes?
Click here
Click here to read an article on the history of the Altadena Sheriff's Station