Welcome to


- A traditional Janes Cottage on Terrace Street
"The goal of the residents of Janes Village is to celebrate the unique character and architectural significance of homes built by Elisha P. Janes and to foster a sense of community within this historic area."
Janes Village is a neighborhood in Northwest Altadena, California, (Where is Janes Village?) designated in 2002 as an "Altadena Heritage Area" by Altadena Heritage. This designation was bestowed upon the area because of the unique architectural and historical character of the homes of this area which were largely designed and built by Elisha (E.P.) Janes between 1924 and 1926.
---
Janes Village site links

---
NEWS:
House Hunters Comes to Janes Village!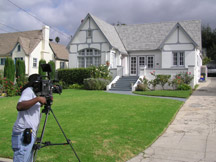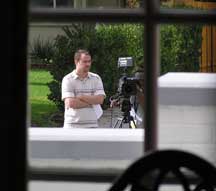 SHOWTIMES:
Episode aired Thursday March 10th on HGTV
Of course the buyers chose a Janes Cottage! Our very own Michael Baietti helped them in their search. The writers and producers loved finding out about our neighborhood and came back to film some more footage of other Janes Cottages, inside and out. Click here for information about House Hunters.
Click here for information about this specific episode.
---
New historical detail found about the opening of Janes Village!
Click here to read Tim Gregory's updated history
Mr. Gregory found an interesting article in the archives of the Los Angeles Examiner from October 25th, 1925 which tells of a "small home exposition" sponsored by businessmen of Altadena. There are two great pictures from the exposition, one of which prominently features the homes at 303 & 297 Altadena Dr.
Click here to see the Los Angeles Examiner article (pdf)
Click here to see E.P. Janes original advertisement - you won't believe the original cost of a Janes Cottage!
Click here for a second, smaller ad
---
"Janes Village is a unique capsule of the 1920's. I congratulate the residents for working together to create this identity for the neighborhood."

Michael D. Antonovich
Los Angeles County Supervisor, Fifth District
Click here for information on our 2002 Ribbon Cutting
---
Our Newsletter name and Tag Line!
Janes Village News - Preserving the Past for a Better Future
Click here for all the details of our naming competition.
---
NEW - Janes Cottage Web Tour!
One of the finest Janes Cottages went up for sale in 2006 and a web site was built to aid the sale of this fabulous home. This web site features numerous photographs of the home and gives a great idea of some of the unique features of these historic homes.